During the last 6 weeks I could again devote much time to continue my work on the Classical Greece map. I added many settlements and details over the entire Aegean region and filled some gaps in Italy. The DIN A0 version of the map now has about 900 settlements of all kind, the same as on the first edition of my Roman Empire map. 
Soon I will begin restructuring the homepage to add an own section for the new map and begin writing the commentaries. 
What remains to be done:
When I started to work on this map my intention was to just cover Greece proper, focusing on the Delian league and the conflict between Athens and Sparta. Thus turning my earlier postcard into a full sized wall map. By now the original plan is essentially completed. However as I wrote here before the scope of the project was expanded quite naturally over the last 1.5 years.
I am currently working with a DIN A0 sized canvas in mind, that by now is mostly filled out. Before considering the map finished, I still would like to add more details mainly to Cyprus, inland Thrace and Asia Minor.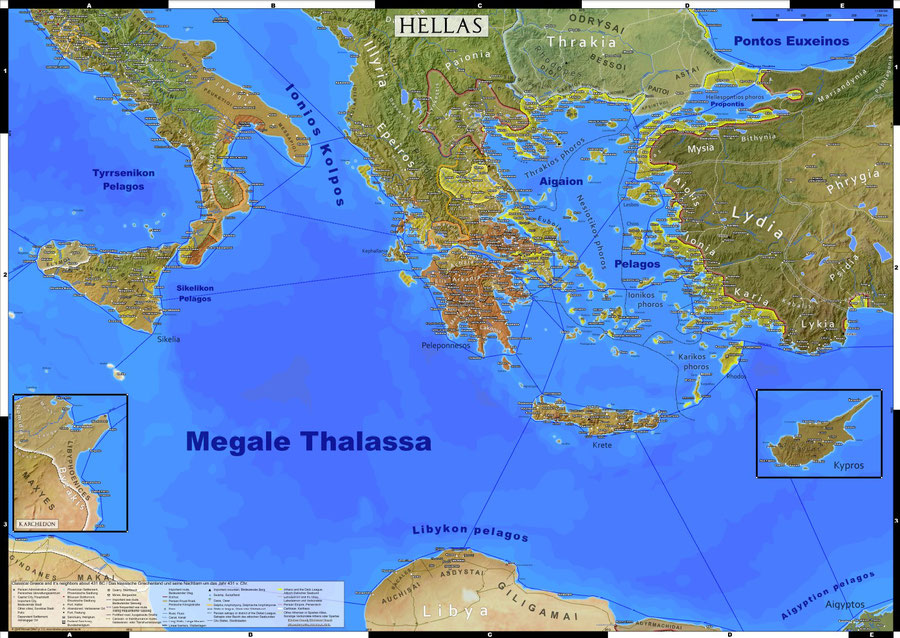 Also I still can't decide about the best size for prints. Most likely I will stick with DIN A0 (119 x 84 cm), but size B1 (100 x 70 cm) is still on the table too.
The larger A0 version features more parts of Italy up to southern Etruria and the north African coast. Thus content wise it is more complete, covering all direct neighbors of Greece proper. In B1 the filling factor is higher, less space is covered by empty sea. The latter I consider aesthetically more pleasing, while the focus is clearly on the intended region.